Post by Takeshima Kunou on Dec 15, 2013 15:42:57 GMT -5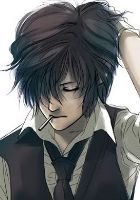 Takeshima Kunou - 20
__________________________________________________________

There was a deep sound and Takeshima's eyes opened up slowly. He looked up and around before letting out a deep groan. He pulled his legs up and his body back, sitting up in his bed and reaching beneath, pulling out an old shoe box. He assumed it was early in the morning, however his alarm clock was blackened out. He guessed the deep sound was the power throughout his small apartment going off. Still, he didn't seem to care very much. Instead he began to begin his routines earlier, taking a file and smoothing out the ends of his nails. After that was done, and he decided he was finished with his nails, he got up and went out his front door. He only peeked out, since his floor was mostly outside, talking about the power outage. It seemed it was the whole building and not just him. He let out a sigh and simply went back in, taking a quick shower before the hot water ran cool.

He dressed in a turtleneck, and his biggest jacket, which was hardly thick enough to protect him from the coldness outside. As he peered through his window he was simply happy it wasn't snowing anymore. Takeshima went back to his room and pulled out a few of his ginto vials, shoving them into his pockets. For now they would be his only defenses. He walked through his front door, and left. Thankfully everyone who was out before his shower had migrated back inside.

Once he was out, he wished he had thrown a hat on over his wet hair. The cold would probably get him sick, but instead he kept moving. He looked to his left wrist, a space now occupied by his watch and it read three something. It was the dead of night with no one outside. As he walked he wished he could push out reishi, sense something, but there was naught, and he was going by his simpler senses alone.

Of course as he got close to a power line he noticed the transformer box had been torn open. Depending on how severe he was contemplating fixing it. He grit his teeth slightly and stopped. The air felt colder, and his ears were picking up something. He turned his head back, and right there staring deep at him from just a few dozen yards away was a hollow, screeching at him.

With only a look of annoyance Takeshima pulled out a ginto, a glass one and crushed it in his hand before he pulled it, letting the reishi inside become a crystal sword. It was the one technique he still had that was his own. The hollow was like a frog mixed with a dog. Claws and the like. "Come on now." Takeshima goaded, turning to face it. It was quick moving and it came in close before swinging hard at Takeshima. He rose the sword to deflect it, however it, like most things had the upper hand in strength, sending him flying back.

"Tilt the goblet to the west, Wolke." He shouted as he yanked on a ginto tube. It exploded into a cloud, just as he would have slammed into a building, cushioning his landing. As he pushed up he closed his eye. "I need help.." He said with a sigh. As he looked up the monster was charging again, and Takeshima grit his teeth and sprinted towards it. At the last second, when it began to swipe at him he slid, going beneath it, between it's legs. As he came up on the other side he took off, dragging his sword along the ground making a sharp glass like sound. Hopefully it would help attract someone who could help distract the beast, so that he could destroy it's mask.


[/font][/color][/blockquote]
OOC: Post Sanrei Glove removal
Status: Tired
Action:
Fatigue Level:15%
Injuries:
Wordcount: DC
Stats: Han: 9 Rei: 15 Hak: 8 Sei: 16 Buk: 16 Hoh: 16