Post by Jashin Hakudoshi on Feb 15, 2013 20:10:57 GMT -5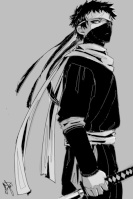 FIRST NAME:
Jashin
LAST NAME:
Hakudoshi
SEX:
Male
SEXUAL ORIENTATION:
Heterosexual
RACE:
Shinigami
ALIASES:
Shadow
AGE:
218
AGE OF APPEARANCE:
17
SQUAD:
Division Two
RANK:
Third Seat
------
APPEARANCE
FACECLAIM:
SERIESNAME--CHARACTERNAME
HEIGHT:
5ft 11in
WEIGHT:
180lbs
APPEARANCE:
His skin color is fair, a bit on the darker some areas. His abdomen is flat, but if he were to tighten that area, the forming of abs can be displayed. His arms are toned as well, the muscle tone is easily shown even without the use of flexing his muscles. Same as for his legs and calves, something he works on the most, since he mostly focus on his speed. As for his attire, its a traditional assassins wear. Black of color, mostly covers his entire body, all the way to his nose, where a mask covers over his lips. Around his waist there lies a gray sash that splits the top and lower half of his one piece attire. Around his neck there is a grey scarf, and upon his forehead their lies a gray headband, that covers over his left eye as well. His hair is spiked, and its color is brown.
------
BRIEF PERSONALITY
LIKES:
*Dumplings
*Combat
*Reading
DISLIKES:
*Rude or Annoying People
*Hollows, Arrancars, and Espada
*Dirty-ness
NEGATIVE TRAITS:
*Introverted- He usually likes to keep to himself, and is rarely
outspoken. Most times, he only speaks when spoken to, other then that he is quiet.
*Obsessive Compulsive Disorder- When it comes to his particular living area, he does not like for anything to be out of place. If one single thing is out of place, he quickly goes to tend to it. It`s the main reason why he dislike seeing areas with a lot of trash or odd smells. And stains are something he could not handle, which is why he usually eats in areas where he could not make a mess.
*He cares more about completing his job, rather than his squad-members. This is mainly because he has little to no relationship of any kind with them.
POSITIVE TRAITS:
*Respectful
*Curtious
*Head-Strong
EXTRAS:
He is the type to mainly focus on completing his job, and rarely has a private life. He doesn't communicate much with others. Usually he just takes his orders, gives them out whenever he has to, and completes his missions, No questions ask. He is also the private type, he doesn't like disclosing his private life or background. Which is why his attire keeps him so covered, only the right side of his face, and his hair are in view, one would describe it as a Defense Mechanism. Which it is, in some ways, but really is something he likes wearing.
------
WEAPONRY/POWERS
WEAPONS:
Zanpakuto, Ten Kunai, and Ten Shuriken.
ZANPAKUTO:
Sealed Form:
When sealed, the zanpakuto is a regular
Katana Blade. The hilt is black and its length is a inch over a foot,
so thirteen inches more or less. The tsuba is oval shape, with a
silver color. While the blade is3 ft 4 inches in length, with a sharp
tip.
Spirit:
Kage No Hebi`s appearance is that of a human
figure. Her height is 5 ft 6 inches, and her weight is 137 lbs. Her
figure is petite, and her breast are a B-Cup in size. Her skin is
pale, and her entire body is covered with snake textured skin. Her
pupils are purple, and are slite like that of a snake. She does have
fangs, which mostly shoot out when she is angered. Her hair color is black, its length stops at the back of her head, and the frontal parts stop some inches pass her jaw. Her attire is the same color as her hair. Form fitting, the attire does not shy from showing her skin. The main areas that are show is her abdominal, legs, arms, and lower back. Her breast are covered by a form fitting black top, one strap stretches over her right shoulder, while the other is left open. Her left arm is covered by black arm-wear, which covers her entire arm and palm. As for her waist and other areas, a pair of form fitting black spanks are covered by a short laced skirt, the top part of the skirt is kept a hold by a black belt. Lastly, her feet are covered by a pair of black boots, which stop some inches pass her ankles.
As for her personality, she is the opposite of Jashin. She doesn't
like to follow orders, and she is rather outspoken. She has no problem revealing her body, unlike Jashin who keeps most of his body covered for some reason she does not know. She`s rude, crude, and seductive. She does not mind using her body to manipulate others to do her will. As most of the time she is bored, only excited whenever Jashin uses her in battle. Unlike Jashin, she has a craving for blood-shed, but this doesn't mean that she is a bad person. Somewhere under that snake skin of hers, she does have a heart, she just chooses not to show it.
Inner-World:
His Inner World Appearance, is similar to
his personality. A calm place, with a rocky terrain. Mountains
outlined the terrain, and are set in different areas of he field. The
mountains differ in height and size, and most are steep. The Terrain weather is usually light to mild winds, which is calming for Jashin. Some flowers outlined the current terrain, though there isn't many. As for the sky, its a normal blue sky, and the sun usually does not make its appearance, surrounded by thick clouds mostly.
SHIKAI:
Release Command:
"Purge!"
Description:
When release, black reiatsu shroud over the
zanpakuto and body of Jashin. Warping he shadows beneath him and whoever he is around. The shadows form a snake, where Jashin stands in the snakes mouth. The zanpakuto blade shines bright as light its self, once the light dies out. The blade of th zanpakuto becomes a nodachi, the blade its self is completely colored black with the engraving of a snakes body on both sides, and at the end of the hilt a twelve foot chain is wrap around his right arm.
Type:
Manipulation and Control of Shadows.
Techniques:
For: Shikai
Name: Burando Settei(Branding)
Type: Offensive
Cost: Low to Mild Reiryoku
Range: Short-Mid Range
Description: Pointing forward with his zanpakuto, he his able
to stretch the length of his zanpakuto`s striking ability. Seven
strips of shadows manifest at the tsuba and coil around the blade.
Once it reaches the tip, the strips form into the image of snakes.
Which are then able to stretch out from the blade and charge at his
opponent(s). If able to strike, they could bind the opponent(s) are
form fangs to tear into their skin.
For: Shikai
Name: Hebinosokutsu(Snake`s Den)
Type: Offensive
Cost: Low to Mild Reiryoku
Range: Short-Mid Range
Description: Using his shadow and the blade`s shadow, he is
able to create a multiple snakes(ten). These snakes are able to move along the ground at a quick pace. If they were to attach to the skin of the opponent(s) or get close enough, they are able to detonate. One snake could cause light to mild damage to the skin, if all, they could fracture or crack a few bones.
For: Shikai
Name: Desusutoraiku(Death Strike)
Type: Offensive
Cost: Mild to High Reiryoku
Range: Mid-long Range
Description: Death Strike is a Technique that locks on to the
shadow of his opponent, or a shadow period. Through the ground he is able to strike from below. Erupting a large number of spike shadows, able to strike his opponents from below.
For: Shikai
Name: Sairentokiru(Silent Kill)
Type: Offensive
Cost: Mild to High Reiryoku
Range: Mid-Long Range
Description: Using his shadow, he is able to increase the
length of his blades shadow. With the shadow, he is able to manipulate it to strike at his opponents. With the shadow, he is able to increase its length and strike at his opponents. The technique mainly helps lock a attack on whatever area the shadow stops under. Once it locks onto a area, the blade is able to condense shadows and use it to increase the blades length, and attack that area the blades shadow is under.
BANKAI:
-Not Yet Attained-
Name:
Description:
Type:
Stat Upgrades:
Techniques:
------
OTHER
HISTORY:
Born and raised in Beijing, China, Jashin entered into the world as the youngest of four boys. His mother was a strict
house-wife, and his father was even stricter, as well as the one that provided for the family. Jashin and his three older brothers lived under a strict house-hold. The four were raised to follow the orders of adults, and to always study and work hard. Because of this, the four were never able to grow like most children in america, though it was common for children of his race to be raised in such a way. And they were force to deal with it, acting out was rewarded with a punishment. Something neither of them wanted, so they acted as the perfect children. Doing as they were told, studying hard, and working hard. It was a endless cycle for thirteen years of Jashin`s life.
During the month of July, Jashin finally acted out. Going against his parent`s wishes, he and his brothers did not head home after school. Instead, the four headed into the woods, which lead to a cliff. Over the cliff there was a large lake, his older brothers had been there multiple times. Usually getting by free, with a good excuse to their mother. Since this was his first time, he was worried, more over he was scared. Diving off of cliffs was not something he wanted to do, but after his brothers went so he had to, to him at least. As he ran towards the end of the cliff, he mess up with his footing, and hit the back of his head on the cliff, while diving into the water.
That day, Jashin died from blood lost, becoming a spirit after that.
While a spirit, he spent his days following his family, whom were all depress in their own way. His father was to brave to show it, but
Jashin was able to catch him during his weakest of moments, crying while coming home from work. After two weeks of being a spirit, a substitute shinigami finally came, aiding him from dying from a hollow, and sending him to Soul Society. While there, he was quiet, he was a loner, and he struggled to survive. He look for a purpose in life, but couldn't find one.
He didn`t interact with others that much, and there were moments were he had to steal food. When he heard of the Shinigami Academy, he saw a what he look for so much, a purpose. So he joined, doing what he was raise to do, study hard and work hard. It took a while, but he finally graduated. Becoming a unseated officer of Squad Two. He did as he was told, work long hours, and rarely interacted with anyone. The stealth attire soon became something he admired wearing. It became apart of him, in some way. And it wasn't long before his hard-work and training, work in his favor, he raised in the ranks, and it wasn't long before he became the third seat of squad two.
RP SAMPLE:
Rafeal
CLASS/LEVEL:
AD-2
STATS:
Statistics
Class/level:
AD-2
HAN:
9
REI:
6
HAK:
9
SEI:
8
BUK:
8
HOH:
10
Points Earned:
0
Total points:
50
------
OCC
CBOX/OOC NAME:
Azreal or Az
OTHER CHARACTERS: