Post by Blair Mitts on Mar 21, 2013 21:58:20 GMT -5
[atrb=border,0,true][atrb=style, width: 420px; background-image:url(http://i.imgur.com/pN4s1.png); -moz-border-radius: 40px 0px 40px 0px; border-radius:40px 0px 40px 0px; padding: 10px; border: #181818 solid 10px; ]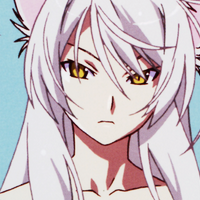 sex: Female | sexual orientation: Bi-sexual | race: Arrancar
ALIASES:
N/A
AGE:
300
AGE OF APPEARANCE:
21
NUMBER:
22
RANK:
Fraccion to 5th Espada
BASE FORM:
Adjuchas
Situations are irrelevant now
FACE CLAIM:
Monogatari - Black Hanekawa

HEIGHT:
5'8

WEIGHT:
130lbs

APPEARANCE:
Blair stands at five foot and eight inches, weighing in at slim hundred-thirty pounds. Her body is particularly skinny and her skin is almost a pale white. Her eyes a golden yellow while her hair is white, and on top of her head are a pair of cat ears. These cat ears are white s, with pink tuffs on the inside of her ears. Her mouth is usually in the shape of a :3 and she is very cat like. Her attire changes constantly but she is always wearing something that looks like a witches hat. That hat is rather large with a white piece of cloth at the base of the hate which buttons, along the top of the hat it ends in a curl. Her hair also is in varying designs. She has long hair that goes past her shoulders but it is usually in long curls along the side of her head, or just let down. Her outfits consist of strapless dresses with thigh high boots, and gloves that go past her elbow. Or sometimes she wears a mini skirt with knee highs, and a coat with fur along the edges, the fur is part of a hood that she can extend over her head, and with that outfit she wears a t-shirt with no sleeves, but her outfit varies day by day, usually if you catch her in her own quarters she is naked or as close to naked as possible. Her number 22 is located on the inside of her left breast, and her hollow hole is located also between her breasts, so it conveniently hidden with most attire.

She loves the way that I tease
LIKES:

-Fish
-Crab
-Lobster
-Scallops
-Anything seafood pretty much
-Milk
-Flirting
-Cuddling
-Sex
-Getting Petted
-Getting her ears played with

DISLIKES:

-People who yell at her
-People who ignore her
-Other meats beside seafood meats.

NEGATIVE TRAITS:

-Clingy
-Loud
-Can be annoying at times
-Lazy

POSITIVE TRAITS:

-Loyal
-Overly friendly
-Funny

EXTRAS:
Blair is very similar to that of a cat. She loves anything seafood and will gladly do favors as long as you feed her some of the sea foody goodness. While she may be loyal, overly friendly to literally everyone and funny, she can also be quite annoying and clingy. If she finds a person she likes she will often bug them at the most inconvenient of times. She always wants to play and be the center of the attention. The word responsibility is almost non-existent to her. All she wants to do is play, be fed, and be paid attention by those that she is trying to get attention from. She is also an overly sexual person and can be called an exhibitionist. Her body is something she is not afraid to show off, and often wears clothes to show this. She is not afraid to be seen naked, since she often parades around her own quarters as such, and if someone visits her in her quarters she will often refuse pleas of, "Please put some clothes on." She is also not afraid to use her looks to get what she wants.

I love the way that she breaths
WEAPONS:
N/A

ZANPAKUTO:
name: Meow Mix

sealed form: Her zanpaktou's sealed form is a pair of hand claws. The first part is leather, which wraps around her hands to prevent from coming off, she can also close her fist without the claws moving. The claws extend from her knuckles, three claws that are about 8 inches in length, and equally spread apart.

RESURRECCION:
release command: Hiss, Meow Mix.

description:She takes on the form of a black cat. The black cats sizes are either a small kitten or the size of a panther. The kitten black cat looks like this.In her larger form, she is has big as a panther, but takes on a more humanoid cat form. Being able to stand on two feet and form fists. The basic ability of this form is all her hair can take on the characteristics of hundreds-of-thousands of small blades that are barbed. So getting punched or kicked by her not only stabs you going in, but once she leaves contact with her enemy, pulling back on the punch she also rips and tears. The same with people who punch or kick her, small blades will pierce them, and as they pull away will also rip on the way out. These blades are very small, as long as the fur on her body, so she does not have a long range with them. She has to come into physical contact with her body to another person or another person comes in contact with her body. These blades are useable in both forms.

type: Melee

stat upgrades:
+4 to Hakuda
+4 to Hoho

techniques:
For: Resurreccion
Name: Extend Meow Mix
Type: Offensive / Defensive
Cost: Low
Range: Short (1ft)
Description: She can extend all the hair on one part of her body(one whole leg, one whole arm, the front or her torso, the back of her torso) to a foot in length, which she can then direct this hair, making it all face one direction or making it all stick out. Meaning she could concentrate it all towards her hand, adding a foot to her arm to make a foot long sword which can take blows as such. The blades still have the same properties as her body, it can slide in just like a sword, but withdrawing it, it has tiny barbs along its length, meaning it will rip when pulled out.

For: Resurreccion
Name: Disable, Meow Mix.
Type: Offensive
Cost: Medium
Range: Short(Must make physical contact with the body part)
Description: She can shoot reiastu out offensively from her body. By hitting certain points on certain limbs she can temporarily disable that limb for a short duration. (1 post, must wait three posts before disabling the same limb again, can only disable one limb per a post)

For: Resurreccion
Name: Ultimate Defense, Meow Mix
Type: Defensive
Cost: Medium
Range: Short(2 feet)
Description:She can shoot out all her hair from all sides of her body two feet in length. Giving her the ultimate defense, she cannot move while in this defensive state.

For: Resurrecion
Name: Burst, Meow Mix
Type: Offensive
Cost: High
Range: Mid(12 ft)
Description: She can shoot her reiastu out further, but this reiastu does not disable her opponent. It can be used to blow people away, while still doing blunt force. It has enough power in these blows that she is also knocked back when she uses them unless she is firmly grounded. She can fire these blasts of reiastu from her hands or feet and in only one direction.


SEGUNDA ETAPA:
note that you cannot start off with segunda etapa. It can be learned once the character reaches MT-2.

description: explain how the appearance of your character changes during segunda and their basic ability. It should build upon the appearance in resurreccion.

type: either list an element, or something else that clearly represents the abilities this character will gain in segunda etapa. Be aware that abilities do not stack (except stat changes), so all resurreccion techniques are replaced with the segunda etapa techniques upon release.

stat upgrades: which stats increase in res and by how much? Only fill this out after you have been given your class/level.


techniques: may have 4 to start. Register these through creation before adding them to your application.

I kissed your lips you pulled my hair it was the craziest thing
HISTORY:

Blair was born at the beginning of the 17th century in Renaissance France, she was the bastard child of a whore mother who worked in one of the brothels. Even though she was a bastard child, her mother still wanted her, although she knew she could not give her much in this life. Luckily, she was one of prized women among the brothel, and since her boss loved her so, she gave her time to take care of the child for the first month. After the first month she was put back to work, and her child was passed from woman to woman among the brothel, during the times her mother had to work. Unfortunately this was the kind of life that Blair was destined to grow into. When she finally got old enough to walk and talk she was given tasks around the brothel to earn her keep. Serving drinks, food, sweeping up among the rooms, and making the beds once they were done being used.

Of course, just like her mother, she was meant to grow up to be a beautiful woman, and despite how much her mother didn't want it, she took on the same line of work. Although she was able to save her daughters innocence to the later age of sixteen. It was a job, and it was the only thing she could do to continue to live in this world, it was a dirty job, but she used her looks, even better than her mother's to get them what she wanted. Eventually a wealthy merchant man visited the brothel, as many wealthy merchant men did. Laying eyes on the beautiful Blair, he just had to have her for his own. Her mother was getting close to the age of her usefulness, and to ensure her mother lived out the final years of her life she did whatever she could for the man. Blair and her mother were whisked away by the wealthy merchant, living in a house for once, with food in their belly daily, and no longer having to worry to perform on a daily basis. The stipulations to being the man's permanent play thing were to also take her mother, and she would do whatever the man desired as long as this remained true. Her mother lived out her final years in comfort, before dying from typhoid.

Blair couldn't have been happier for her mother; she lived the final years of her life in peace, and died in the comfort of her sleep. While Blair herself continued to be the plaything of the wealthy merchant, although her death was met months after her mother. While walking with her now husband, a runaway horse carriage came careening down a hill, she quickly pushed her husband out of the path a she was hit with the full force of it. Her skull abruptly slamming into the hard brick road, her pretty little brains spilling out all over the road as her happy life suddenly came to an end. She saved the man who had saved not only her mother but herself. Although Blair did have some regrets, she felt she had not paid her debts to this man yet, and ended up staying in this world as a soul, before her chain finally corroded, and she brought into Huceo Mundo as a hollow.

The first period of her hollowification was a blur. All she could remember was an incurable hunger. As she ate and ate her fellow hollow, of course, she was destined to become something more. It wasn't until after a long period of incurable hunger that she finally became an Adjuchas class hollow. With her new hollow form she took on the form of a black panther that stood on all fours. Her body completely black except her face which was white, due to her hollow mask, during this time her hunger was duller, but she still continued to eat other Adjuchas, and Gillian, her power ever growing. Although, there were rumors that with enough power a hollow could transcend this form into something more humanoid, by pulling off her mask.

So she decided that the only way to continue on was to do this. She pulled the mask from her face; it felt as if she was ripping flesh from bone. A large explosion rocked the area, as power was released. Her body taking on a humanoid form, but she was left with cat ears on top of her head, reminding her of what she once was. Not knowing what else to do, she wondered the desert naked, until she happened stance on Las Noches. Where she was taken in, and made Fraccion of the 5th Espada, more likely for her looks than anything else. Under the care of her 5th Espada master she quickly picked up on things that she never could do before. Finding out the abilities of her resurreccion, and using them for her benefit and hers, she could only get stronger, never again would she have to worry about being weak against other hollow.

RP SAMPLE:

It was nice to see the compliments she had offered to Rukia were taken in stride, and even a faint blush had appeared on her cheeks. Rin couldn't help but think to herself out cute that was, but was glad to see the words she had spoken highly of Rukia hadn't gone directly to her head. It was especially nice to see that Lieutenant wasn't being pushed around by her Captain, since it seemed he enjoyed treating her like a child, or at least that's how she felt. Rin had always been much smarter than everyone throughout her entire life, but she had never talked down to anyone, or made anyone feel inferior to her. She always tried to treat everyone as an equal unless they deserved to be talked down to, due to circumstances such as this one that seemed to be presenting themselves now. Although it seemed at the very moment, that the Captain was made of pure silliness.

He spoke to her about getting her head out of the gutter, and that she shouldn't think such things, more or less she figured because he was a guy, but what guy didn't think those things when it involved two women being alone? Then he finally took her comment in stride, how she would of guessed Rukia being a Captain because of her maturity over him, saying that she could be if she could run the division, but his mother wouldn't like it. At that moment, she had become all but lost in his words, not really sure how to take his comment and she continued to stay quiet. Although it seemed the Captain could only get more and more weird. It's almost seemed if he was pulling words out of his, although a bit cleverly, because they oddly made sense, if you could follow his complicated train of thought. Although it seemed he appreciated his Captain, as he continued to compliment her, in his silly fashion. Finally, after the torrent of comments stopped spewing she was finally able to fight back with her own words.

"Well, it seems the silly Captain of the thirteenth division does have a serious side to him after all." She replied, before she adjusted herself in her chair to sit up further in it. "Why does maturity matter, Captain Kurosawa? Because, maturity seems to almost be parallel to leadership. Have you ever heard of a human world leader who ruled while absolutely absurd? I can't recall one that has." She asked, while standing up and out of her chair, as she needed to stand to get into a battle of wits, with the Captain who seemed to be the jester of the Gotei 13. "And it may seem Lieutenant Kuchiki can handle any work that is thrown at her, but you have to take into fact Captain Kurosawa, that people like Kuchiki and I, are not the ones who typically ask for help, even if we need it." She said, as she was now walking as she spoke, choosing to turn her back to the Captain. "Personally, I handle ninety-nine percent or more of the paper work that passes through the Kido Corps, myself. I feel it is necessary that my Lieutenant handles other necessary matters. Such as, training to learn their Bankai, or perhaps learning a new bit of Kido to benefit the Corps."

She said as she turned back towards the Captain now, with her right hand, holding her left hands wrist at her waist, as she almost assumed that the Captain could probably feel her gaze. "Although it is not for me to say how to run your division Captain Kurosawa, I can only give you insight on how I run my own division here in the Gotei, and I can only hope that maybe you'll take it to heart and consideration and perhaps apply some of my methods to your own division." She said, as she took a few more steps towards the desk where the Captain was seated. Now, she was standing directly against it, within possibly two to three feet of the Captain. Her stance seemed a little aggressive, her neck rigid, as she wasn't afraid of the Captain in the least, or what seemed to be an oppressive and soul-piercing stare. "Lieutenant Kuchiki, it was a pleasure to have your acquaintance, I will definitely take the words you spoke to me in stride."

Rin said, looking past Captain Kurosawa, before she turned her head to the right, giving her a soul piercing glare herself, although being headless the effect was moot. "Captain Kurosawa... I suppose it was nice to meet you too. Although, I think small doses will have to do for now until I can... handle your humor." She said before abruptly turning on her foot and making her way to the door, she stopped and looked back over her shoulder. "Good day to the both of you." She said before she made her way to the door and exited, deciding that she honestly couldn't take any more of the Captain's absurdity. It was more annoying than it was humorous. How he could mix the two together was beyond her. Rin typically only had two attitudes, one that she shared with friends where she could be carefree and calm, like she had been with Rukia moments before, or the one she had taken on with the annoyance she'd appropriately refer to as, "Captain Kurosawa." Besides the point, she had a lot to think about, and more people to meet.

CLASS/LEVEL:
AD-1
STATS:

HAN: 10
REI: 9
HAK: 11
SEI: 6
BUK: 8
HOH: 13
Points Earned: 2
Total points: 57

I love the girls who love to hate.
CBOX/OOC NAME:
Mushi
OTHER CHARACTERS:
Rin Minatsuki – Kido Corps Captain
Priscilla Mashin – Conscero of Charity
[/td][/tr][/table]
made by
MOCKINGBIRD
of
BTN
[/center]